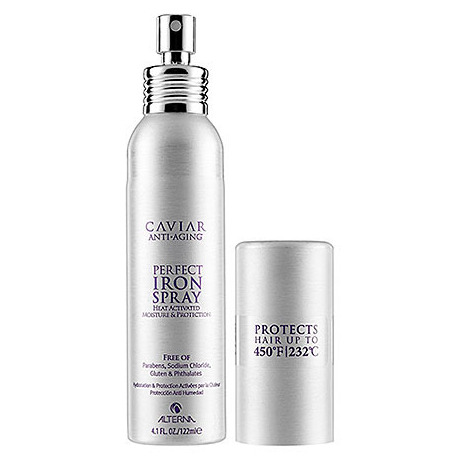 It's Hit or Miss Monday again! I finally have a hair product that I want to review for you guys. It's been so long since I've done a hair product review so let's jump in, shall we?
I bought this spray in lieu of not being able to find the Tresemme or Got2B heat protectants. I was absolutely desperate to find a heat protectant spray and Sephora was the next option. Now, I usually don't dish more than $10 on a heat protectant but like I said I was desperate. When I got to Sephora, Alterna was having a promotion there so of course everyone was suggesting it when I told them what I was looking for. I spoke to an Alterna rep and she told me that this spray was amazing. She said it protects up to 450 degrees, but then again that's almost every heat protectant spray. However, she said that it causes you to use less passes with your flat iron over a strand of hair. When she said that, I was sold! I have very thick hair so I thought that it would be perfect for my hair. She also told me it locks in moisture and prevents frizz and humidity. So, I decided to dish out $28 for a heat protectant.
The question is was it worth it? LIES.COM. This is probably one of the most disappointing products I've ever bought for my hair. I've only used it twice and I plan on returning it for store credit. First off, this product does nothing for my hair, If anything, I get a sleeker,more shiny look with Tresemme and Got2B. It didn't decrease my number of passes on my hair with the flat iron. My hair feels dry and just blah! I just don't like it at all. This is definitely a MISS. I'm extremely annoyed that I spent that much money on it but it is going back to Sephora ASAP.